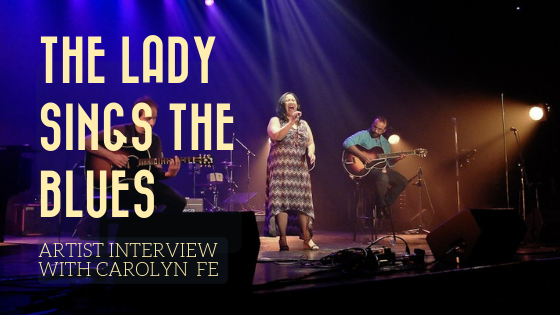 I first met award-winning actress and blues singer Carolyn Fe online in a female musician's Facebook Group. There, I enjoyed her interview with Mutsumi Takahash from CTV News. I related to the story Carolyn told and thought "I get her, I want to know more about her.". So, I asked Carolyn if I could interview her for my blog – a far cry from CTV I realize – and she said, "Yes!". Thanks Carolyn! 
Carolyn Fe was born in the Philippines and raised in Montreal. The land of poutine, tender smoked meat, and hot jazz. Montreal is no stranger to racism and Carolyn dealt with it from an early age. Left standing on the fringe of society. 
In the 70's, the era of corduroy, hot pants and Farah Fawcett hair, Carolyn danced for a ballet company. A young woman, she had to wear light wigs and pale make-up when she performed on stage. Sometimes contacts to lighten her dark brown eyes. All to make Carolyn appear more 'white' to the audience. Racism comes in all shades and any wage bracket. Carolyn appreciated the work. Yet, every pallid application chipped at her soul. She wasn't enough. 
---
I must interject. I can't believe that happened in Canada during my lifetime. The same day I heard Carolyn's story, I read black ballet dancers paint their point shoes with dark makeup. That's happening now! Buying point shoes the colour of their own skin tone wasn't possible, until recently. Can you imagine? Why so little diversity in the ballet world? Misty Copeland breaks new ground, thank goodness. But are you kidding me? I feel for the dancers. Always on the outside looking in. It's unacceptable. It's wrong. 
I told my husband the ballet story. He reminded me of Jockey/Trainer Jeannie Spence from Vancouver. In the 60's she pulled a Yentl. She disguised herself as a male to become a jockey. She hid it from everyone for years. Years! The horse racing industry allows female jockeys now, but have we grown much as a society? Looking at the world right now, I wonder. 
---
Carolyn opened her own school of modern dance which after a time failed. Age twenty-two, lost, broke and desperate for a job, she turned away from the arts, landing a job as a headhunter. Carolyn remained in that field of work until recently. 
In 2005, she met a musician and an old flame ignited within her. Burning. Fervent. All-Consuming like a California fire. And like Michael Corleone, just when she thought she was out, the arts drew her back in. In her mid 40's Carolyn returned to her artistic roots. This time as a singer. She fantasized about her triumphant comeback. Arenas jam-packed with adoring Tina Turneresque crowds. "I was delusional", she laughs. But the dream spurred her into action. Another late bloomer joins the fold. Welcome!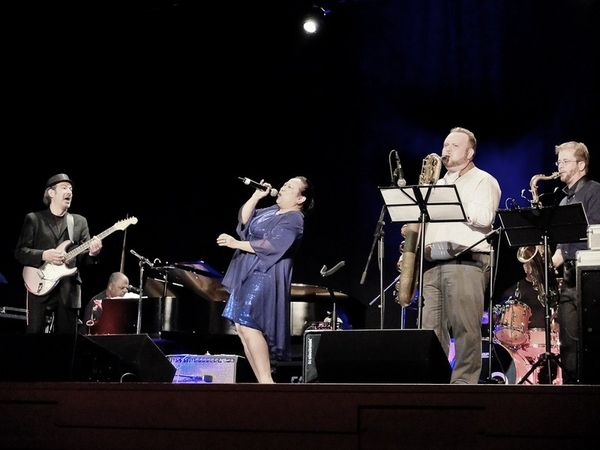 Fourteen years later Carolyn is a respected Filipino Blues singer. Not something you see every day. Four albums recorded, her headhunting career lies at the foot of a guillotine. She is a full-time musician. 
The road wasn't easy. Montreal's arms didn't open wide in acceptance at first. Toronto's reception was more favourable. Even still, the struggle remains. Lingering in the background. 
Her latest album Sugat Ko (translated "My Wound") restores Carolyn to her roots, both ethnically and internally. An intimate album that came about when she determined to switch things up.
She thought ...
"F*ck it. I'm going to sing what I wanna sing. How I wanna sing it. And if the industry decides, well this isn't the Blues. Or this isn't Jazz … well, F*ck it. It's me!"
Ahhhh, a sister from another mister. I get it! And so does the Music Industry. Sugat Ko receives rave reviews. 
Her latest release, written when Carolyn felt beaten and ready to give up is aptly named Jerusalem's Thorn. Discouraged she searched to remedy the pain she felt. Lyrics and melody poured from her soul. Drenching the hurt with the healing waters of music. Calling drummer Brandon (a BC boy) she said,
"We need to get into the studio now. I have to record this song." 
In the studio, she sang. Brandon drummed. The rhythm familiar. Resembling her Filipino roots. The final result is Jerusalem's Thorn. It's arresting. Sparse. Powerful.   The Video below.
I couldn't end our conversation without asking Carolyn if she had any advice for readers on the edge of trying something new. Someone who feels they're too old. Her advice was simple -
"F*ck it! Do it! Do what's in your heart. We have one life. Because on our last breath we can say we don't regret." And then she added, "For all those who may be reading this, do not discredit older women. We have stories to tell, young ones. Listen to what we say because we have lived it. Collaborate with us. We don't bite." 
Yeah, that's about right. 
You can buy Sugat Ko here and I suggest you do. I did.