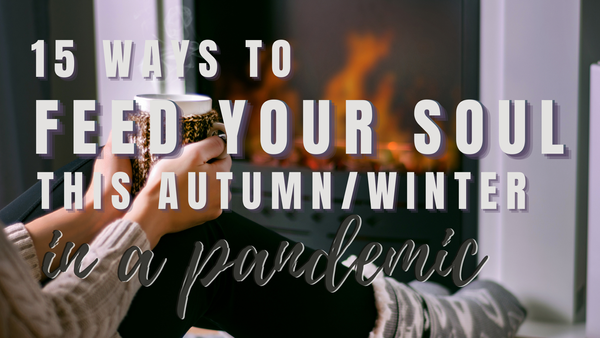 Attitude is everything. 
This past summer I tried to make the most of it. I worked less. Spent more time outside and took little adventures whenever I could. We had friends visit for outdoor swims and I spent time paddling in my kayak. We kept our windows open. I walked in the woods. Watched many sunsets. I sat outside for my morning coffee every day. I always had fresh flowers on the table. I did everything I could to make it an enjoyable summer. And it worked. With all that was going on in the world, I can still look back at summer 2020 with fondness. 
Autumn is here. The days are getting shorter. Winter is coming. We're in a pandemic. I want to live the final two quarters of this incredible year with intention. 
I took the time to make a list of things to do during the fall and then winter. It's a menu of sorts. Something I can choose from when I'm planning my week or have a few extra minutes to spare. I hope these ideas inspire ideas of your own.
Don't worry - you don't have to write everything down. I've put together a handy checklist you can download, with a bunch of things to do and space for you to add your own adventures. It's free and just for you.
OUTDOORS 
There's a Norwegian word called friluftsliv (pronounced free-loofts-liv). It means a passion for nature. Take to the outside even during the rain and snow. There is no bad weather only bad clothing. I'm on the hunt for some warm clothing and my plan is to get outside as much as possible during the next few months. 
I work from home so I can be a bit more flexible when it comes to my working hours. My strategy is to get up early and begin my work while it's still dark. That way I can take advantage of the daylight hours to head outside. 
Get out in Nature - Once your bundled up you could
Enjoy your morning coffee outside 

Go for a nature walk and look at the changing leaves 

One of my favourites is to pretend to be a photographer. Take some interesting shots of the leaves, trees, bugs, water, or snow. Whatever catches your fancy 

Go for a hike with the dog 

Step in as many puddles as you can 

Walk in the snow. 

Meet a friend for coffee and sit outside 

Snowshoe with friends or join a snowshoe group 

Cross Country Ski 

Build an outdoor fire (we have a fire pit) and drink cocoa. 

Have takeout at the beach. Why not? Bundle up and enjoy the view. 

Go Tobogganing 

Solid Frozen Lake? Go Ice Skating! 

Go for a drive in the country – look at the autumn colours from the safety of the car. Pick apples. Pumpkin patches. Pack a lunch and make a day of it. 

Look at the Christmas Lights – I have a feeling Christmas lights are going to be a big deal this year. We may even put some up. Bundle up and go for a stroll in the neighbourhood. Or take a drive in your area to see the twinkling displays of seasonal joy. 
INDOORS
Movie Night – Here's something my husband and I like to do - We take turns picking a director, actor, writer or composer. Then we choose two movies that person participated in one way or another. We pick one well known movie we want to see and the other more obscure. We've discovered some great movies that way. The library is a good source for free movies. As well as Netflix and Prime and of course renting a movie online. 
Another idea would be to watch the Hollywood version of a film, then the original version. (often foreign) Or Else, the first version of a film and then the blockbuster remake. Discuss which one you liked more. And why. 
Bonus points for preparing food to go with the movie. The Godfather, Italian night. Eat, Pray, Love – Indian Curry and naan. Julie/Julia – Beef Bourguignon 
Game Night – You can play the regulars, cribbage, scrabble, rummy. Spoons is fun for the family. Puzzles.  You could also spend the evening gaming with friends or family who don't live close to you. Get everyone on a Zoom call and play Pictionary or Charades. Connection with people you love is the key here. You're limited to 40 minutes of fun with a free zoom account – so Monopoly is out. 
Girls Night – Did you used to get together with your girlfriends for a drink or a coffee? Now's the time for a regular chat with friends over Zoom. Grab a glass of wine or a cuppa and let the laughter begin. I've had a regular zoom call with one of my best friends since the pandemic started. I'm amazed at how much closer we are as friends and how effective it is as a communication tool. FaceTime. Messenger. Zoom. Whatever. Use technology to connect. 
Grandkids – I'm a grandparent to two amazing little boys. Lately I've had online play dates with the boys. I have a big tub of Lego here for when they visit. I pull it out, they pull out their Lego and together we make dinosaurs, jails, and planes with ninjas. I love the time bonding with the kids, and they seem to enjoy it. I highly recommend it. 
Eat Out – We have an Indian restaurant we enjoy going to. They take all the precautions necessary and we feel safe eating there. We like to pick a day mid-week. The restaurant is close to a sea wall, if we leave early enough, we can combine it with some friluftsliving. You can do this by yourself, with your significant other or get together with a friend for a lunch date. 
Spa Day – I have a local spa that I frequent every six weeks. I feel safe while I'm there and I feel like a million bucks when I leave. You could book an appointment at your local spa for a facial, manicure or massage. Even better, go with a friend. Or if that isn't in your budget or comfort zone, set time aside to pamper yourself. A bubble bath with candles. Give yourself a manicure or pedicure. A luxurious facial. How about a couple's massage!
Tailgate Party – How about a tailgate party with your friends. Get together safely outdoors. Eat some great food. Watch the game on the internet and cheer your team on. 
Theatre – I miss the feeling of live theatre. Fortunately, you can still see some amazing theatre online. I have found What's on Stage to be a great resource.  
Reading – Now is the time to add some Hygge to your life. Hygge is a Danish and Norwegian word for a mood of coziness. Giving feelings of wellness and contentment. Go ahead and light the fire. Put on some warm lights. Grab a beautiful blanket and get into that 800-page epic novel you've been wanting to read. 
I've been using Scrybd for my reading. I pay a nominal fee every month and have access to 1000's of books, from personal development to the latest novels. At writing, I'm reading a novel, a marketing book, a self development book and I'm listening to an audio book about health. The great thing about online reading, there is no need to find space to store the physical book. Your place is kept for you. And you can highlight and take notes. That said, there is something magical about holding a real book in your hands. So, I tend to read my novels the old-fashioned way. I will be curling up in the evenings with a real book this winter by the fire. 
A Project/New Skill – Challenge is one way to keep yourself happy. Now is the time to start a project or learn a new skill. Something that you can work on indoors. Save it for when the daylight leaves and a binge watch on Netflix loses its appeal. I'll be writing my book. Other ideas to spur your imagination are to 
Take an online course. 

Redo a piece of furniture. 

Sew a new outfit. 

Knit scarves for the homeless. 

Craft some Christmas Gifts. 

Learn an instrument. 

Online Dancing lessons. 

Learn a new language. 

Try painting or drawing. 
The trick is to challenge yourself with something new. Challenges feed your soul. They give you confidence, keep you busy and are an integral part of your happiness. So, dive in feet first and have fun. 
Music – Why not Put together some Spotify Playlists to boost your mood throughout the day (extra bonus if you use one of my songs 😊). Diversify your music - Try different genres for different times of the day. 
Wake up music. 

Work music. 

Cleaning the house tunes. 

Dance around the house tunes 

Making dinner. 

Relaxing in the evening. 
Give Back
Take the time to write a handwritten note or letter to a friend, family member or someone in need. I buy a bunch of blank cards from the Dollar Store for this purpose. Once a week write a note and brighten someone's day.
Hand out those scarves you knit for the homeless.
Collect food for the food bank from your neighbours.
These ideas scratch the surface. The point is to be intentional about it. Have a list of things there ready for you to choose from and then schedule some into your week. If you have a few minutes with nothing to do, why not choose something from your list? 
Do whatever it takes to feed your soul between now and the end of the year. To do so we must change our mindset. We must go from gloom of months in the dark, to the challenge of making the coming months the best we can. If we do that, we have a fighting chance of having a great final quarter.
I'm up for the challenge. Are you? 
Make sure you download my handy checklist to keep with you. It has a bunch of ideas on it that you can check off as you do them. Together we can make the last quarter of 2020 the best it can be.