It was the worst Christmas ever. Christmas 2002. 
My children were coming for an overnight stay. I didn't see them often, so I was excited. At the same time, I was desperate. We didn't have two pennies to rub together. That winter my husband didn't have a job. We were barely scraping by. There was no money for Christmas presents. I didn't know what I was going to do for food. Thankfully, I had points on my grocery card to get a free turkey. Potatoes and vegetables weren't that expensive. Making pancakes for breakfast was easy enough. But what about presents for my kids? What about their stockings? Gone were the days of overflowing stockings and Christmas Eve PJ's. And plenty of presents nestled under a twinkling tree. This year there was nothing. My heart ached. I had to come up with something.
I looked around the yard of the basement suite we rented. I spotted a piece of plywood the landlord had tossed aside. I cut some branches off a tree. I found old paint from my crafting days when times were different. I set out to make a gift. A homemade gift for my two children. With little hearts from the dollar store, I made checker pieces. I lovingly painted squares onto the scrap of plywood. I made a frame with the branches I'd cut. I wrapped the checker board in scrap paper and placed it under the tree. Alone. There were no other gifts. No plump stockings teeming with toys. It was all this mom could do. That Christmas morning my children opened their only gift. I tear up now thinking about it. They were so gracious and didn't complain. They seemed delighted as though it was the perfect gift. Later when no one was looking I cried.
Through my tears, I vowed "Never again. I will never be this poor again."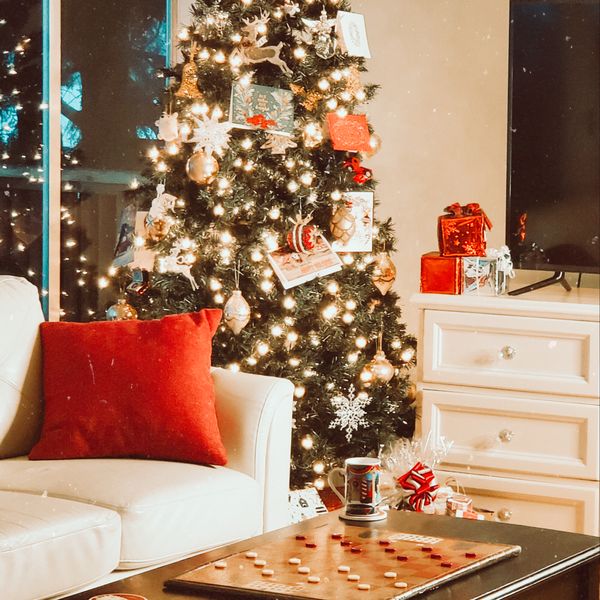 It's Christmas 2020. Eighteen years later. My husband pulled down the Christmas decorations along with the homemade checker board. I looked at it and the memories flooded back. I felt the pain again as if it were yesterday. I remembered how low I was.
But then I looked around my home as it declared to me how far I had come. I used to think I was weak back then. But I wasn't. I was strong. I was resourceful. And determined to change my life. I did.
I display the homemade checker board on our coffee table this Christmas with pride. It is a reminder of my life and how far I've come.
I'm proud of it. It has depth. It has a history. And it's a darn good checker board. 
If life has dropped you to your knees. Be kind to yourself. For this too shall pass.
And remember, you are the author of your own life. Get out a pen and do a rewrite. 
I wish you a Merry Christmas.

PS - If you're needing a last minute Christmas gift - you can make a checkerboard, or you can purchase some Lyric Wall Art. Print one off at home. Purchase an inexpensive frame and voila. Classy. Elegant. And dare I say rather thoughtful.