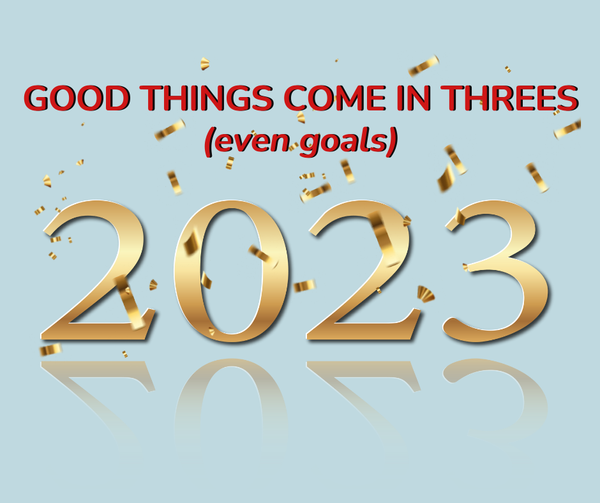 We've all heard good things come in threes. And in my experience, they often do. Spiritually the number three denotes Divine Perfection.    
Why not take the perfection power of three and apply it to your goals this year – here's how.   
Three Years   
Take a moment to dream. Imagine yourself in 3 years?  What does a Divalicious life look like for you? You could imagine a perfect day. What do you see? Ask yourself the following questions.  
How do I contribute?  
How do I feel?    
How do I look?    
What am I doing?    
Where do I live?  
Who am I with?   
Now ask yourself, who do I need to become to accomplish this? What do I need to do to get there?   
Next, do a brain dump and write everything down.   
Homework: If you have time, create a vision board. I suggest you make a digital one. The use it as your screensaver on your computer and telephone. Then if you want have a large poster of it printed off to hang on your wall. A constant reminder of the Divalicious Life you're working towards. 
Three Broad Divalicious Goals   
Now it's time for future you to meet current you. Choose three broad goals from the three-year Divalicious vision of yourself.   
Perhaps you saw yourself fit and healthy but you're reading this while eating from a bag of Doritos.    
Or maybe you see yourself travelling the world and exotic places, but you're currently in debt.   
You could see yourself as an NYT Bestselling author signing your book on tour, but you haven't written a word of a book and don't know where to start.   
Three broad goals from the above scenarios could be –   
I want to get in the best shape of my life   
Financial Freedom   
Published Author   
Note: You'll notice these aren't S.M.A.R.T. goals - Specific, Measurable, Attainable, Realistic and Time bound. They're broad and you alone know what they mean fully. Sometimes it's easier to begin with and idea and then move inward.  
Three Yearly Goals   
Looking at the above three broad goals, choose three specific goals you can do within one year.  These goals should excite you and set you on the road to your Divalicious life you desire. These goals should be tough enough that you have to work at them, but not so hard that you'll feel like a failure by Feb 1st.  
Lose 30lbs   
Pay off Credit Cards   
Write the first draft of my book   
Quarterly Goals   
From here, you can write your three goals for the next Divalicious quarter.   
Lose 12 lbs   
Pay down 1500 on the Visa   
Write three chapters of my book   
Monthly Goals   
Next write down your three goals for the month   
Lose 4 lbs   
Pay $500 extra on Visa   
Write Chapter 1 of my book  
Weekly Goals   
Now it's time to get to the nitty-gritty of how you will accomplish your monthly goals. This week, choose three things to do to help you achieve your monthly plan. These are your Friday Feed My Soul I did this for me Goals.  
Work out at the Gym 3x   
Sell the old china downstairs and use the money to pay down the Visa  
Write 500 words a day T-F   
Daily Goals   
And finally, what three goals will you do today to help you with your Friday Feed My Soul I did this for me Goals?  
Go to the gym today like a Divalicious Rock Star!  
Research pricing online for the china   
Prepare a storyline for my NYT best selling book   
Bonus tip #1: Look at your goals daily, including the three-year, annual, and quarterly. It keeps your vision in front of you and helps you stay on track.  Re-evaluate your progress mid-year and adjust as required. No judgment needed. Only thoughtful action.  
Bonus tip #2: Be flexible. Sometimes goals have to change because of life. Remember 2020? So be prepared to pivot.  
Bonus tip #3: Habits support your goals. Goals are the big dreams, but it's the daily habits that are the tiny steps you take to reach them.  
Bonus tip #4: Choose goals from different areas of your life. ie health, finances, relationships, work. A Divalicious Life is a well rounded life.
If you are consistent with the above, you will accomplish much more than you can imagine.    
Will 2023 be one of your most Divalicious years ever? It could be if you think in threes.