Yesterday was a big day for me. I received a small shipment of CD's. They arrived in time for a small house concert I'm having tonight in my hood. Damn it looks good. Thank you to you, my fans, for helping me with the cover design. I'm rather proud of myself. The design of the CD itself is good! I may have missed my calling.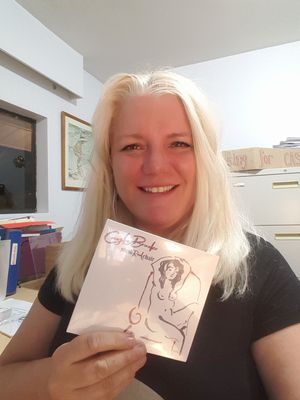 So tonight is the night I get to sing the music from my album before friends and neighbours. I will be singing some of the music for the very first time. It should be interesting. A 4 piece band inside a house. It will be special and our guests are in for a treat.
I had a special moment earlier this week that I want to share with you. It was one of those aha moments you hear about. You see, tickets for my CD release concert on the 22nd haven't been selling that well. I've been worried. I was talked into a larger venue in an area where I haven't sung a lot and am relatively unknown. My gut said to sing closer to home, but, like I said, I got talked into it. So now I am paying the piper. Honestly, I'm a bit bummed out about it.
Anyway, back to my aha moment. I was driving to the post office to pick up my mail. I turned to park in a stall and saw a man standing in the middle of the stall taking a picture of the car in the next stall. Naturally I looked over and saw it was a shiny, black Ford Mustang Convertible. Nice. I sat there patiently while he took a long time to focus his iPhone? Then I realized he was filming. Ok, I looked again. There was a woman in the driver's seat. She was bald. The man noticed I was waiting and quickly got out of the way. I pulled in and proceeded to get my mail. While I'm thumbing through bills I'm thinking. She obviously has cancer. Perhaps breast cancer. Is the prognosis good? They've bought a new car. The car she's always wanted. A black Ford Mustang. They're living life to the fullest. Taking the final road trips. Bucket list items. Prognosis, perhaps not so good. Sad.

I'm now heading back to my car, feeling a little sad. I see the couple. They are both beaming. The glare from the teeth alone is mind boggling. They are smiling from ear to ear. He clearly adores her. He's now filming her from the passenger seat. Her smile is infectious. They are enjoying each other's company immensely. It's beautiful to watch. I miss that feeling. Music blares. They both laugh and suddenly I have the urge to give them a CD, but I don't have one. They haven't arrived yet by courier. The couple are clearly on a road trip to Whistler and have put on the tunes for the ride.
It was at that moment that everything came into alignment for me. Like a bank vault's locks and measures slotting in place. That woman would switch placed with me in a heartbeat to have my petty problems. What am I feeling sorry for? So what if there are only a few people in the audience. They are people who support me and my music. What is it I want to do? Sing to the multitudes or simply sing? I just want to sing! I want to share my music and my story. That's it. It's like receiving a diamond ring and thinking its not big enough. I've been given a precious gift and I've let one thing take away my joy. But no more.
There is a three year old little girl inside of me that has waited a lifetime for this moment. I'm not going to take away her glee because of an adult's ego. No way. I'm going to enjoy every moment of today and the next couple of weeks. So, I'm back to finding my Divalicious!
So, just for you and a reminder to me - Here is Divalcious!