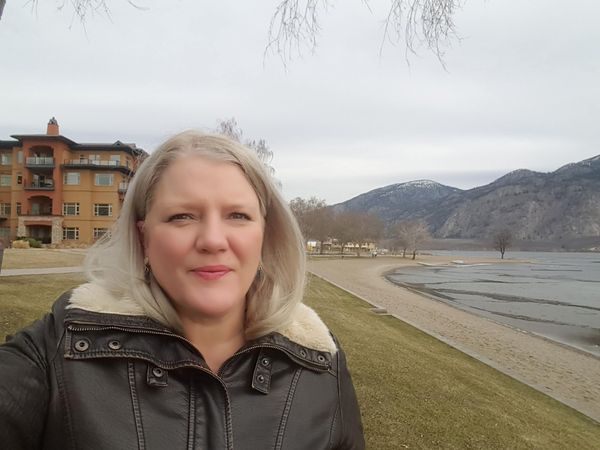 Going on the road is still one of my favourite things to do. I have never tired of it. It's exhausting. Stressful. Sometimes boring. The accommodations can surprise you. There are hiccups and situations to deal with on a daily basis. But somehow the show always goes on.

This past weekend 7 of us packed our bags and went on the road to do the Eva Cassidy show in Osoyoos, BC. In the past we've always traveled together. We usually rent a van. Krista, our fabulous tech crew also brings her personal van and somehow all of our gear fits in her vehicle. Its a miracle akin to the loaves and the fishes, but it happens every time. This particular trip though, we went our separate ways. Each of us having different schedules/gigs after the show. Bill (piano an MD) and I rode up together. We wanted to be on the road by 9:30 am giving us ample time to drive up and stop for lunch on the way.

I arrived at his house at 9:15am. Enough time to pack his car with my gear and refill my coffee. I placed my suitcase, mics and guitar in his vehicle. I looked at it all. Something was wrong ... what was it? Sh*t! My clothes. My stage clothes. They were still hanging in the closet at home - 40 minutes away. A great start. My husband, being the guy that he is, offered to drive home and get my clothes and we'd meet him en route. I got to drink more coffee for a while.
We arrived in Osoyoos on time and raring to set up. Normally we have a noon load in and an 8pm show. It gives us plenty of time to set up. Eat dinner. Chill. Get ready for the show and perform. This time however the theatre was part of a school.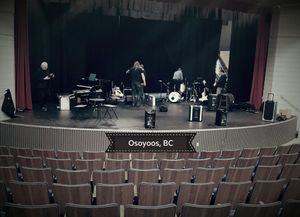 3pm set up was the earliest time we could get in. 7:30 start to the show because .... I have no idea. Its the latest craze. We lost time on both ends. Ugh. We didn't finish our soundcheck until well after 6pm and we still hadn't checked into the hotel. There I was in my jeans and T-shirt. Just over 1 hour before curtain. My hair a wreck or at least not stage worthy. No makeup on. And the plug didn't work in the dressing room.  Tina, the lovely woman who booked us, suggested I get ready at the hotel. Off we went. First we checked in. Then I sped to my room. Clothes flying. Make up bags unceremoniously dumped. Curlers heating. I rolled the final hot roller in my hair and looked at my watch. 6:44. I looked at my face. This wasn't going to happen. How was I to do this? The boys were leaving for the theatre in 15 minutes! Breathe. I sent a text to Bill. "I'm never going to be ready by 7pm. Go on to the theatre without me." I text Tina, "Please come to the hotel. I'm in room 306. You'll have to drive me to the theatre. I'm running late." Poor Tina arrives to her star ... false eyelashes half on. Curlers half out. Ginger tea bubbling over on the stove. The beautiful suite she booked for us looking as though a cyclone had hit it. So did my hair. But I was dressed. At least I was dressed damn it!
Tina, what a trooper, checked my hair. Poured my tea into my thermos. I was running out the door and went "Ugh, my necklace. I forgot to put on my necklace." Tina, thinking on her feet took off the necklace she had on. Over my head it went. I was ready for the stage. In her car driving to the theatre I glanced at the clock. 7:36 pm. I was late. I have never been late before (for a performance that is). How Diva of me. There's a first time for everything I guess. I tried to catch my breath on the drive. I got out of the car. Walked into the theatre. Smiled at the boys. Lights down. Show time.

Part way through the show my wireless headset mic started slipping. At one point the battery pack fell through my clothes and dangled behind me. This is what happens when you get dressed quickly. The details get lost in the fray. Fortunately I was off stage when this happened. The tape holding the tiny mic on my face had come off. Of course my tape was at the hotel, so there was nothing I could do about it. I could see the mic out of the corner of my eye. It wasn't where it was supposed to be.  It was facing East instead of North. *sigh* I press it to my face again. I wish it would cooperate with me. I had a quick change.(costume change off stage) Things feel funny. I touch my face. No mic. Where the heck is my mic? Of course it's down my top. Where else would it be? I hear my cue. There's no time to fix anything. I'm back on stage holding the tiny wire mic to my face. I say my lines to Tom Pickett (playing Chuck Brown). I ask him for a Kleenex (part of my line) and then say .... my mic has come loose Chuck. (not my line) He fusses with my mic for a moment. Tom's is as blind as me - it's hopeless. "You're just gonna have to hold it darlin'" he says. So I sing my song, holding the mic to my face the entire time. Thankfully I'm off stage again for another quick change. The crew member hands me a wired mic to use for the last chunk of the show. (the sound man didn't set up a wireless mic on standby like I had asked). I could only get part way across the stage because of the wire's limitations. I had to adjust my movement for the remainder of the show. More thinking on my feet. Showbiz. Live performance. The nature of the beast. Was it a great show? Damn straight. The audience loved it. It's a beautiful show and I'm surrounded by the best. Mic or no mic. I can't go wrong.

After the show we're treated to some wonderful food at an audience member's home. Bill plays the piano for fun. We sing. We chat. We drink. We relax. Off to the hotel in the wee hours. A few more drinks before we crash. The view is spectacular. What a nice hotel. I wish I could stay longer.

I try to sleep but its not going to happen. I'm too wired from the performance.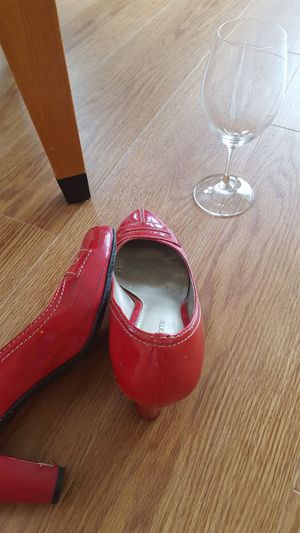 By 3am I feel myself dozing off. My alarm goes off at 7am. I forgot to turn it off before I went to bed. Bloody hell. I'm up and making coffee.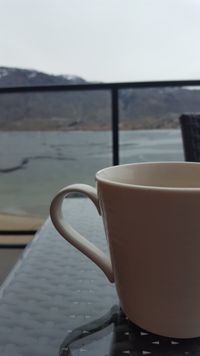 I decided to go for a brisk walk before breakfast and the next part of our journey. Osoyoos is beautiful. It's cold but the walk feels good. I get that feeling of being on vacation. For a fleeting moment. The blood rush. The excitement. It feels good.

Bill and I enjoy some Eggs Benny and then off to Penticton and the Dream Cafe (our next gig). It's only an hours drive so we decide to check out some of the wineries along the way. We're wine tasting. Purchasing some great BC wine.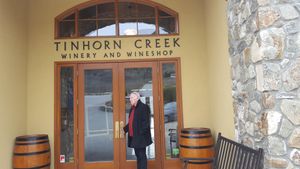 Checking out quaint little churches. More wine tasting. Learning about the different vineyards. It's fun. I get that feeling of being on vacation again. It feels good. The wine is making me feel good. I'm getting tipsy. Oh dear. "Never drink before you sing Cayla! It dries out your throat!" whispers in my ear as I take another sip of wine. Oh dear.

We meet up with the bassist extraordinaire Miles Hill for a coffee in Penticton. Our accommodation is far from the urban suite of the previous night. It's ....colourful. With tapestry on the walls. A smell of incense that fills your nostrils when you walk in the room. There's a book by Rumi on my night stand. I feel spiritually enlightened just stepping into the place. I have an urge to do some yoga, but I don't do yoga and the urge passes.

Another odd sound check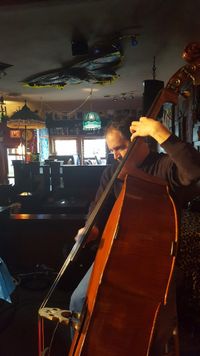 and I find myself missing our regular sound technician Dan. He normally goes with us, but not for this run. We have to depend on the sound people supplied. We're all feeling a little frustrated.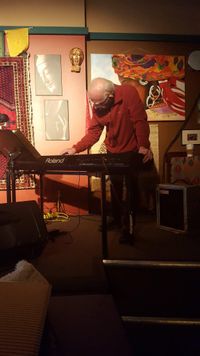 Nothing some dinner wont fix. Dinner is delicious and we get time to chill. A far cry from the evening before. We play our tunes and the audience eats it up. I get to sing some of my original tunes from my new album. They audience responds with loud applause. They're going over well. Encore!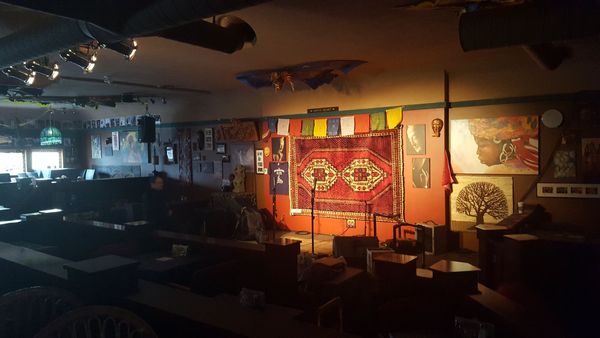 The drive home early the next morning is almost treacherous. First stormy. Then full on winter conditions in the mountains.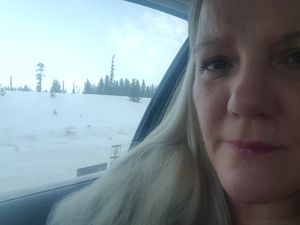 Then rain. Finally sunshine. It takes us longer than we expected but Bill is a good driver and we get back to Vancouver safe and sound. I've had a great time but I am exhausted. The two days feel like about 5.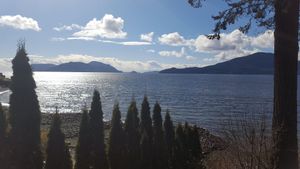 I walk in the door. Open up one of the new bottles of wine. Sit on the balcony and say ahhh. It feels good to be home. Unpacking can wait.

I love what I do.