2016 has been an interesting year. 
I remember at the beginning of the year I was mourning the loss of my sister who had passed away a couple of weeks earlier. I decided that 2016 was going to be a year of experiences. That was my resolution. Experience more in life because life was short. Well - I experienced things alright, but not the way I had planned. After some reflection I will say that 2016 has been a year of Moments. Moments of pure joy, like the birth of my little grandson Adam. Moments of incredible sadness and pain. Moments experienced trying new things - like my discovery of painting - a new passion for me. Moments enjoying the burst of creativity while songwriting with Bill Sample. Moments of utter failure. Moments of frustration. Moments of shock - Donald Trump - (insert stunned silence). Moments of hearing something I've written come to life - the production of my play "Don't Call me Aggie." It has been a unique year of moments for me. 
I'd like to tell you about one special moment experienced. It was in August. I had the chance to perform as part of the NVRC outdoor concert series. The boys and I arrived late due to obnoxious traffic. Set up for the gig was harried. There was no time to do a real sound check and I was thankful Dan Silk was at the helm. We were in good hands no matter what. We had no time to settle. We arrived. Set up and started to perform. The sun was shining. The backdrop of Panorama Park in Deep Cove stunning. The crowd full of character. I remember one audience member dancing to every song. He had an interesting way of expressing himself. Someone described his dance style as being from the Mr. Bean School of Dance, which was an accurate description. He made all of us smile and added character to the evening. I liked him. 
But there is one moment in the evening that stands out amongst all others. 
 
---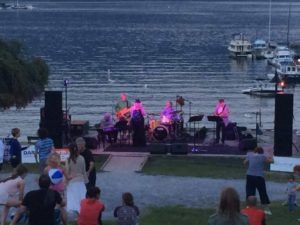 Bill and I have written a song titled, interestingly enough, "Moment". It's a song that I wrote for my show "Divalicious" and will more than likely be included in my upcoming album. It's a simple tune about the birth of a child. I'd almost call it a lullaby. My little grandson had just been born and I wanted to sing this song in honour of his birth. Somewhere in the middle of the 2nd set of music that evening "Moment' was scheduled. Normally during an outdoor concert my song choices are upbeat and fun - but I was a new grandma and being self indulgent. I asked the audience if they would mind me singing a lullaby for my new Grandson Adam .... like they had a choice. But they clapped and sat down to listen. The band began to play and I sang the first few lines of the lyrics. "The moment I saw your face. The first moment you came in view. Was the moment my life changed and I found a love that's true." I noticed something lovely. People sat closer to each other. Couples cuddled.  Their heads tilting towards each other. Children ran to the laps of their mom or dad. Everything quieted. "So much love for one person so shiny and new. And my heart grew three sizes and beat only for you." We played the song through once and Bill followed with a lovely piano solo. I looked out over the audience and saw love on their faces. Warmth from more than just the sunshine. I came back in after the solo repeating the chorus. "I never knew a love so true wrapped up in a blanket of pink or blue. I'll never leave you my whole life through. 'Cause my heart grew three sizes and beat only for you." A couple was waltzing. People were smiling. And then I noticed - that moment. Over there. And over there. And the couple dancing. And over there too. They were singing along. No one had heard this song before. It was brand new. We had just written it! And yet here they were singing along with me "'Cause my heart grew three sizes and beat only for you." That my friends was a beautiful moment for me that I will cherish for a very long time. 
Perhaps 2017 will be a year of experiences like I had hoped 2016 would be. It remains to be seen. But moments like I just mentioned above? - I'll take any day.