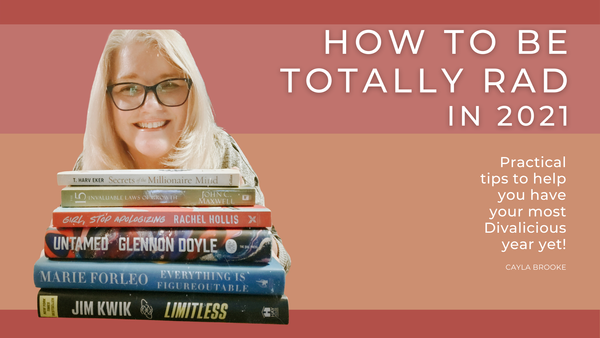 I've been reading Jim Kwik's "Limitless." Essential reading if you ask me. One of the 'Lies" he says we're told is "Knowledge is power." It isn't. Know it alls aren't powerful. They're jerks. This month we're talking about goals and becoming the person we were born to be. Not New Years Resolutions, but moving towards our destiny. The best version of ourselves. How do we do it? By being RAD. 
R
ead every day 
I grew up with the understanding that self-help books were for those kinds of people. You know, weirdos. Not down to earth, real people. What a pile of shite that information was. I wish I had never listened. I love exceptional personal development books. They've changed my life.
Imagine you can get advice and tips from the world's best mentors through a book or podcast. Relationship advice. Financial advice. Mindset, and so on. And when you find an exceptional book that resonates with you. Reread it. Again and again. I promise you'll learn something new every time. 
DIVALICIOUS QUICKSTART – START YOUR DAY OFF RIGHT AND BEGIN WITH 30 MINS OF READING FROM A PERSONAL DEVELOPMENT BOOK – BONUS (ADD THE HABIT TO YOUR PERSONAL HABIT TRACKER)
---
A
bsorb 
Comprende? Have you ever been reading a book and find you reread the same paragraph several times? Because you're not absorbing one word? Me too.  
Jim Kwik writes in his book "Limitless", to read as if you must teach what you're reading to someone else later. I don't know about you, but the pressure of having to teach it to someone keeps my brain engaged. (even if I'm only pretending.) 
DIVALICIOUS QUICKSTART - WHILE READING, ASK YOURSELF "How can I apply this to my life?" Take notes—highlight essential points. Be an active reader. 
---
D
o 
So, you're reading every day. You're absorbing what you're reading. Your head is full of knowledge. And knowledge is power – right? Nope. To prove my point – we all know the following - 
Smoking is terrible for our health 

Sugar isn't healthy 

We should exercise every day 

Thinking Positive is good 

We should think before we speak 
But do we take this advice and apply it to our lives? Hello, chocolate cake. Action is the secret sauce. If we don't take the appropriate action, it's empty knowledge.  
"Nothing changes if nothing changes." 
DIVALICIOUS QUICKSTART – APPLY SOMETHING YOU'VE RECENTLY READ/HEARD TO YOUR LIFE THIS WEEK! 
---
So that's it—another tidbit to help you have your most Divalicious! year yet. Now go forth and be totally RAD!