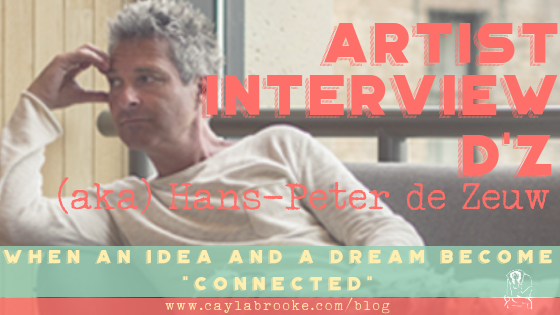 I met d'Z, short for Hans-Peter de Zeeuw, online. I didn't swipe right or anything. No. We met in a musicians group on Facebook. I'm not sure how it all started but we were both working on albums at the same time. We're both late bloomers. We love Jazz. We have a similar outlook on life. All to say, we hit it off immediately. And over the past two years, I can say we have become friends. 
d'Z is a drummer, songwriter, producer, and composer who lives in the Netherlands. That's quite the jump from Canada. But thanks to the internet our friendship has grown. We've supported each other in our musical endeavors.   
Last week d'Z and I chatted, his English is much better than my Dutch. Thank goodness. I would love to introduce you to the man and his music. 
I asked d'Z what made him decide to record his first album at this time in his life? He was vacationing in the South of France in 2016. Ok, let me interrupt here, but why don't I live in Europe? Everyone in Europe vacations in the most exotic places – Me? Nakusp. Hope. It doesn't have the same ring as the South of France, does it? Nor the same beaches or food or wine or culture … But, I digress.
d'Z was fast asleep when he heard a voice say...
"You're going to make a CD."
Now, some may think that's a little loopy. But having been on the receiving end of a similar voice, I can vouch for him that it's not crazy at all. It's normal in fact. 
He couldn't sleep. He was shaking. Fear immediately jumped in. "Who would want to hear my music? How will I pay for it?" And then he asked himself.
"What if? What if for once I did what I wanted to do?"
He felt an energy that he hadn't experienced before. Energy from a thought. The seed of an idea. He knew it was his path. He decided not to share it with anyone (including his wife) until he had nurtured the seed for a while. He chose to water his 'idea' for three months. To give it some roots. He chose the songs. (He has four albums worth of music waiting to be recorded - wow). He chose a producer. He figured out where he would record the Album. He made plans. Then after three months of secret planning, he told his wife. I can't repeat her initial response here. ?But I can tell you, I envisioned it as a balloon whipping around the room after someone untied it. Once she settled she asked why? And his response was golden. "Because it makes me happy." And like the good spouse she is, she came on board and supported d'Z and his crazy dream. 
It's so true. I recently read of a study about happiness. The study involved a group of people who all claimed to be happy in their lives. What was the common denominator? They all came from different backgrounds. Some were poor. Some were wealthy. Some had health issues. Others not. Some had kids. Others were childless. What was it? It turns out that the majority had paid attention to their heart's desire. Their dreams. They had each followed their individual paths. I found that very interesting. And ties in beautifully with d'Z's response. 
So, he kept watering his idea which was now a small plant taking root. And in six months he called the producer. They hired the best musicians they could find. And then found some phenomenal vocalists from around the world to do the solos. 
I remember when he received his EP "Connected". The look on his face in the social media post was priceless. I asked him how he felt on that day. "I was proud of myself. I did it." 
d'Z pushed past his comfort zone. He gave himself the greatest gift – He allowed himself to dream again. Now his dreams know no bounds. Connected is playing on over 3600 radio stations around the world. Way to go DZ. He's busy working on his second CD and hopes for it to come out within two years. 
I asked him what advice he would give to someone reading. Someone who yearns to do something more with their lives. 
"It's all about feelings. The energy you're drawn to.  Soul search. Ask yourself, 'What do I want?' And listen to your answer. Listen to your body, mind or heart. Try not to judge yourself. What makes you happy? We all know what we don't want. That's not news. What do you want? Do that." 
It starts with a dream. Give it energy. Water it daily.  Put in the work. That's a golden recipe if there ever was one. And I think d'Z is about as Div'o'licious as they come. 
If you love jazz with a groove you must check out d'Z's music. I promise you'll "Groove 'til you move".
You can check out "Connection" on d'Z's website. d'Z says - "If people are interested in my humble opinions about life and stuff they can find me on Facebook"
I hope you check him out. And purchase the album. I did. It's awesome. And, in doing so you support an independent musician - so then he can get to work on that 2nd album. Wouldn't that be awesome?