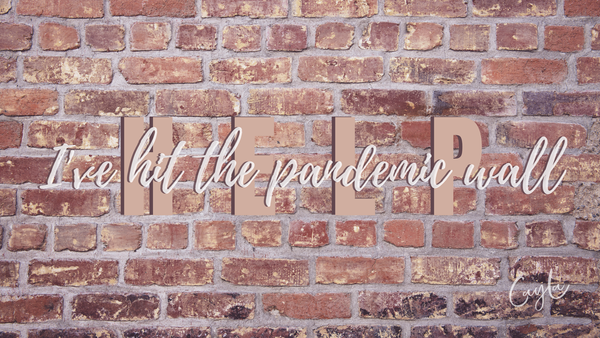 I don't know about you, but for me, spring can't come soon enough. The dark rainy days of winter are hard enough during regular times. But during a pandemic, they can be brutal. 
Everyone I talk to is at their end. It's like we've hit the pandemic wall. And it's brick. So if you're feeling that way - you are not alone. Believe me.
It's more important than ever to feed your soul as much as you can. It's the only way we're going to get through this with our mental health intact. 
Feeding our soul is about connection. 
Connection to others: well, that sucks. Is there a friend you can meet outside?
Connection to our creative side: painting, singing, drawing, cooking, sewing. Playing an instrument. Photography. Paint some old furniture.
Connection to our intellectual side: learning something new. Taking a course. Learning a language or instrument. 
I installed some wall sconces in the hallway this past weekend. And although it was frustrating as all get out. I did it. I felt a sense of accomplishment when it was all said and done. 
Connection to our body: Exercise. Walking. Running. Dancing. Listening to music. Etc. 
Connection to our spiritual side: Meditation. Prayer. Get out in nature. 
Connection to nature: Get outside for a nature walk or hike. Take a scenic drive. 
Connection to our sense of fun & adventure: skiing. Snowshoeing. Ice skating. 
Connection to our sense of purpose: giving back. When was the last time you wrote a letter to someone? Why not call someone who lives alone or send postcards to your friends. How about making cookies for someone and then leave them on their doorstep with a handwritten note. 
Connection with self: Self-care. A bath and candlelight. A good book by the fire. A cup of tea in the afternoon. Give yourself a pedicure or manicure. Dress up during the day just for you. 
Variety: If what you've been doing isn't working as well as it did before – switch things up. Drive to a new place to walk. Switch up your routine. Try something from this list that you wouldn't typically do – like install some wall sconces. 😊
This isn't an exhaustive list. But it's a list to help spark ideas. The important thing is to intentionally do them. Write them in your planner. Next time you go to binge watch on Netflix, choose something from the list. It will help. And if you have any ideas, I'd love to hear them. I'm always looking out for new ways to feed my soul.
And as I keep saying, remember the last pandemic was in 1918. What are the 1920s called? The roaring twenties. And now we know why. Hang on to that. I know I am.